Our main business fields are;
1) Digital Dental Equipment (CAD/CAM/3D-printer/Milling Machine)
2) Dental product (implant and equipment)
3) Biotechnology, regenerative medicine and tissue engineering product
4) Cosmetic product
5) Hearing Aide and other medical equipment
Our company aim is to provide state-of-the-art and best-in-class products in these fields to our customers especially in Japan. To accomplish it, we are always focusing on R&D, and searching good partners around the world.
History of our business development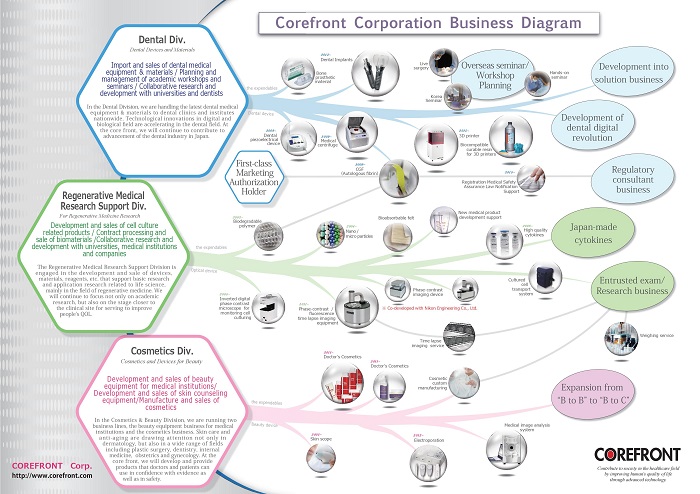 Advantages of Partnering with COREFRONT
✔ Our strongest points
a) We have good engineers and scientists (5 Ph.D. holders). Therefore, we learn your company's scientific & engineering background very fast.
b) We have excellent sales network of medical & dental professionals and industrial players in Japan. We can also investigate customer's need very fast from our KOL`s.
c) We have good service team with skillful engineers. Therefore, we can work as not only your sales distributor but also your instrument service team.
d) We have a good team of regulatory affair as well.
✔ Examples of our products
| | |
| --- | --- |
| Dental | Dental CAD-CAM / Dental 3D Printer and Printing Material / Dental Milling Machine / Dental Implants / Piezoelectric Device for dental surgery / Centrifuge for Blood / Bone Grafts / Orthodontic Simulation / Endoscope for Sinus |
| Hearing Aide | 3D Printer, Printing Material, and related products |
| Biotechnology | Live Cell Imaging / Digital Microscope / Biodegradable Polymer / Nano-Micro Particles / Cytokines |
| Cosmetics & Beauty | Brightening Lotion & Essence / Moisturizing Gel & Cream / Skin Microscope / Skin Analyzer / Electroporation |
✔ Examples of our oversea partners
– Rapidshape GmbH (Germany)
– Dreve (Germany)
– Shera (Germany)
– Detax (Germany)
– NextDent B.V. (Netherlands)
– Silfradent srl (Italy)
– Dentium Co.,Ltd. (Korea)
– JINWON Co. (Korea)
– Morpheus Co.,Ltd (Korea)
– Durect Corporation (USA)
– Biomedical Structures (USA)
– DOT GmbH (Germany)
– micromod Partikeltechnologie GmbH (Germany)
– DYNE BIO Inc. (Korea)
– Merck Chimie SAS (France)
– Nanopartz Inc. (USA)
– CHA Bio & Diostech (Korea)
… and more
✔ Examples of our clients
– Dental Clinics
– Dermatology Clinics
– Plastic Surgery Clinics
– Dental laboratories
– Medical Companies
– Pharmaceutical Companies
– Cosmetic Companies
– Universities
– University Hospitals
– General Hospitals
– Institutes